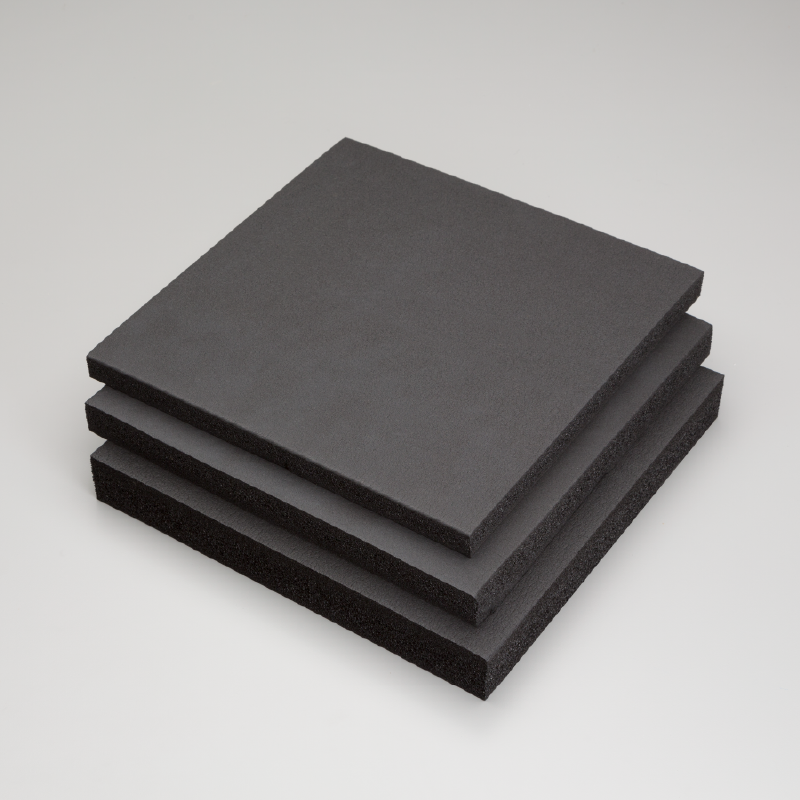 View/download data sheet.
View/download safety data sheet
Aeroflex has everything you need to complete your insulation project, including pipe hanger fittings, fabricated fittings, tapes, adhesives & coatings.
Aerocel

®

ULP

®

Ultra-Low Perm Sheet & Roll Insulation
Aerocel ULP Ultra-Low Perm Sheet & Roll Insulation offers exceptionally low water permeability, and is a flexible closed-cell alternative to cellular glass. Plus, it's made with a proprietary blend of non-polar EPDM rubber that makes it uniquely durable even in extreme environments.
ULP is ideal for demanding applications - very cold service temperatures in high temperature and humid operating environments.
Most thicknesses are available with or without a pressure-sensitive adhesive (PSA) back for faster installation.
• ASHRAE Standard 90.1, Energy Standard for Buildings Except Low-Rise Residential Buildings
• IECC®, International Energy Conservation Code®
• ASHRAE Standard 189.1, International Green Construction Code®
• Buy American
• California Title 24, Building Energy Efficiency Standards
• CDPH Specification 01350, VOC emissions
• EPA TSCA Section 6(h)
• LEED®
• REACH
• RoHS
• MIL-P-15280 (S,T)
• Non-Polar
• Lowest perm rating for a closed-cell elastomeric foam insulation @ 0.01 perm-inch
• No jacket or supplemental vapor barrier required for most applications
• Thermally-efficient - lower K-Value than cellular glass
• Flexible - reduced breakage throughout supply chain
• Field-fabrication - no separate shop fabrication required
• Indoor Advantage[TM] Gold Certified for low chemical emissions (VOCs)
• Environmental Product Declarations (EPD's)
• Health Product Declarations (HPD's)
• No CFCs, HFCs, HCFCs, PBDEs, formaldehyde, nitrosamine or fibers
Small/Large Piping & Fittings
Tanks & Vessels
Chillers
HVAC and plumbing equipment
Cryogenic (limited)
Continuous Operating Temperature Range: -320°F to 257°F ( -196°C to 125°C) -22°F to 248°F (-30°C to 120°C) with PSA
Thermal Conductivity (Btu·in./hr·ft2·°F): 0.245
Water Vapor Permeability (Perm·inch): < 0.01
Fire Rating: 25/50 rated (ASTM E84)*
Plenum-Rated: NFPA 90A/90B
Self-extinguishing (ASTM D635)
*Through 2-inch wall