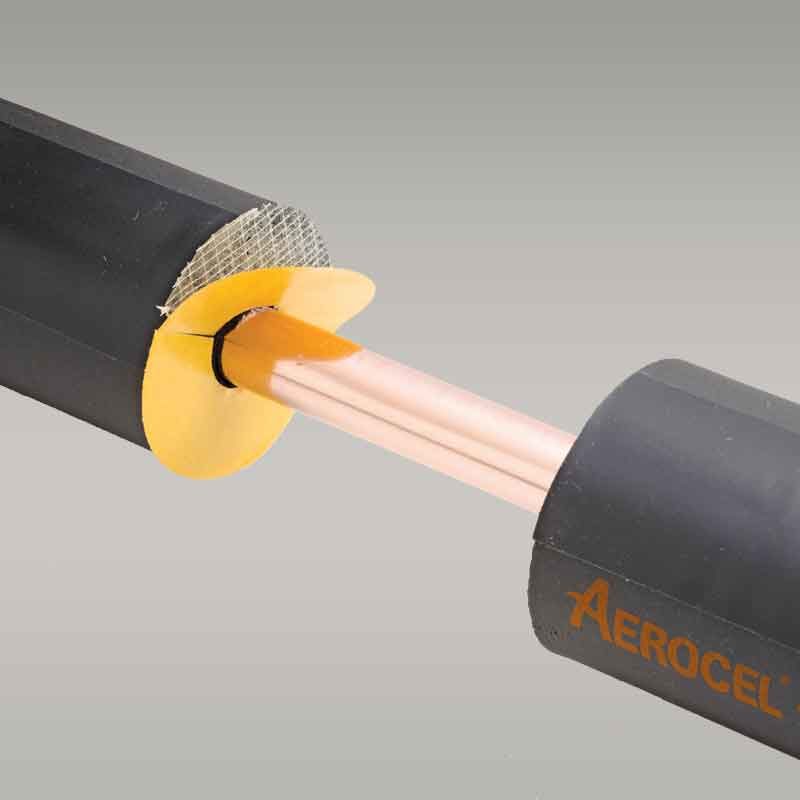 View/download data sheet.
View/download safety data sheet
AEROFLEX® offers single-source hermetic system accessories, including EPDM fitting covers, insulated pipe supports, specialty contact adhesives, tapes, and coatings, and are covered by an express limited warranty.
Cel-Link II® Glueless Seam Seals
AEROFLEX Cel-Link II® is a high strength, low VOC, fast and easy-to-apply method for joining the circumferential seams (butt joints) between sections of AEROFLEX Self-Seal™ EPDM elastomeric pipe insulation.
AEROFLEX Cel-Link II® uses a specially formulated, acrylic adhesive engineered to perform in low/high-temperature environments and is designed for applying AEROFLEX® insulation materials in conditions where wet-applied contact adhesive methods cannot be used – as low as 0°F (-18°C).
AEROFLEX Cel-Link II® is included in cartons of AEROFLEX Self-Seal™ pipe insulation for thicknesses ranging from 1⁄2" through 2" and ID's from ¼" to 10" IPS.
Specification Compliances
• ASHRAE Standard 90.1, Energy Standard for Buildings Except Low-Rise Residential Buildings
• ASHRAE Standard 189.1, International Green Construction Code®
• California Title 24, Building Energy Efficiency Standards
• CDPH Specification 01350, VOC emissions
• EPA TSCA Section 6(h)
• IECC®, International Energy Conservation Code®
• LEED®
• REACH
• RoHS
• Verified Environmental Product Declaration (EPD)
• Saves installation time compared to Aeroflex wet-applied adhesives
• Strong peel adhesion and tensile strength
• Indoor Advantage[TM] Gold Certified for low chemical emissions
• Installation temperatures down to 0°F (-18°C)
• Zero-perm when covered with Protape®
HVAC
Refrigeration
VRF
Chilled Water
Hot & Cold Water Piping
• Continuous Service Temperature Range: -50°F to 257°F (-46°C to 125°C) (ASTM C411)
• Adhesion Peel Strength: 50 oz./inch (ASTM D3330)
• Tensile Strength: No separation @ 72 hours
• Accelerated Aging: No release (ASTM D3611)
• Fire Safety: < 25/50