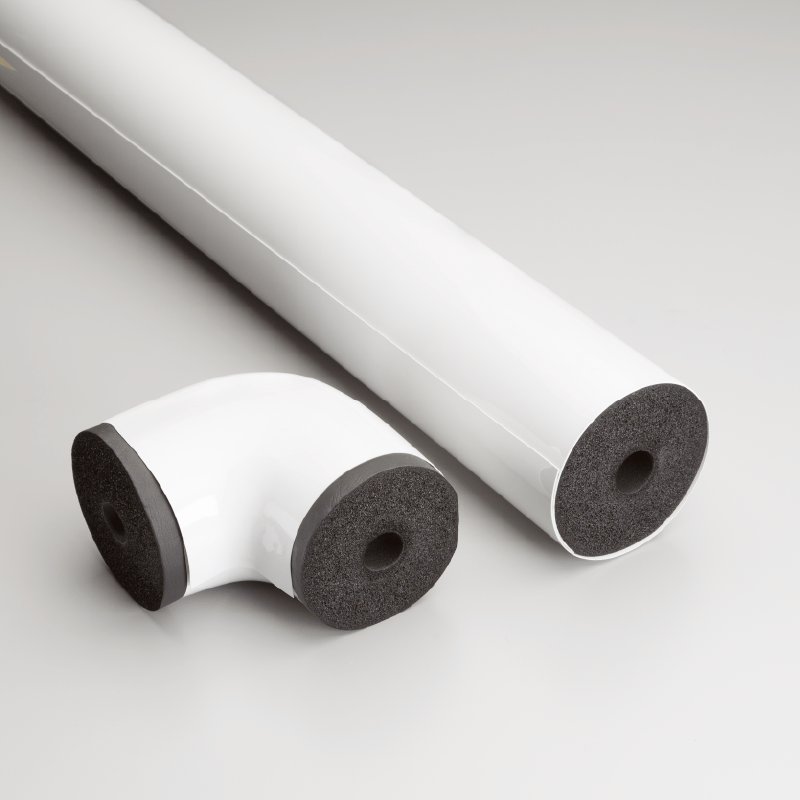 View/download data sheet.
View/download safety data sheet
AEROFLEX® offers single-source hermetic system accessories, including EPDM fitting covers, insulated pipe supports, specialty contact adhesives, tapes, and coatings, and are covered by an express limited warranty.
AEROFLEX® with SaniGuard™ is a perfect choice for piping systems where sanitary conditions must be maintained and/or surfaces will be exposed to washdown. Typical applications include food and beverage processing, refrigeration/frozen storage facilities, pharmaceutical plants, and grocery stores. The properly sized SaniGuard jacketing is supplied with the AEROFLEX EPDM™ closed-cell elastomeric pipe insulation as a separate component in the carton to be field-installed. A matching white 2" PVC tape is available to seal PVC seams (sold separately).
The SaniGuard jacketing provides a smooth, highly cleanable surface that repels liquid and resists abrasion. It also meets FDA and USDA washdown standards when installed with PIC Welding Adhesive (sold separately).
AEROFLEX® with SaniGuard™ also offers UV and mechanical protection for exterior applications.
ASHRAE Standard 90.1, Energy Standard for Buildings Except Low-Rise Residential Buildings
ASHRAE Standard 189.1, International Green Construction Code®
Buy American
California Title 24, Building Energy Efficiency Standards
CDPH Specification 01350, VOC emissions
EPA TSCA Section 6(h)
IECC®, International Energy Conservation Code®
LEED®
REACH
RoHS
• Efficient, low thermal conductivity
• Long lasting – Excellent moisture, mechanical and UV protection
• Environmental Product Declarations (EPD's)
• No CFCs, HFCs, HCFCs, PBDEs, formaldehyde, nitrosamine or fibers
HVAC
VRF
Chilled Water
Refrigeration
Hot and Cold Water Plumbing
Continuous Operating Temperature Range: -297°F to 257°F ( -183°C to 125°C)
Thermal Conductivity @ 75°F (Btu·in./hr·ft2·°F): 0.245
Water Vapor Permeability (Perm·inch): 0.02
Non-corrosive on stainless steel (ASTM C692)
Fire Safety: passes 25/50 (ASTM E84)*
Plenum-Rated: NFPA 90A/90B
Self-extinguishing (ASTM D635)
*Through 2-inch wall thickness