Best HVAC Pipe Insulation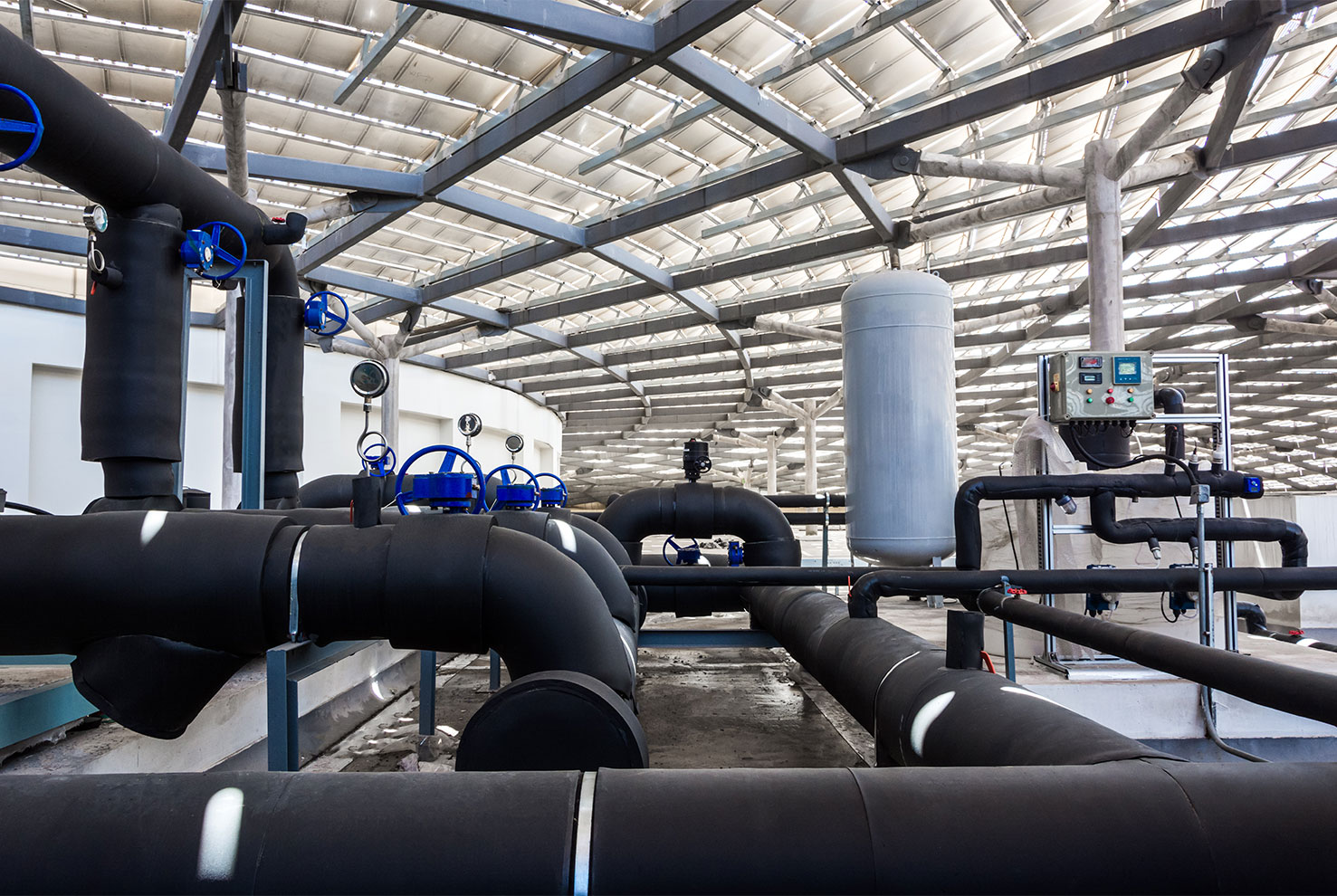 What is HVAC pipe insulation and why is it important? This post will provide a summary of the performance attributes to look for when choosing the best HVAC pipe insulation for cold (below-ambient) systems. Top concerns with HVAC pipe insulation on cold lines include condensation control, corrosion under insulation, UV protection and mold growth.
Heating, Ventilation, and Air Conditioning (HVAC) systems are designed to deliver thermal comfort and healthy ventilation (indoor air quality – IAQ) to building occupants. Systems with HVAC pipe insulation typically include (not all-inclusive) steam, hot water, chilled water, variable refrigerant flow/variable refrigerant volume (VRF/VRV) and refrigeration systems with piping, ducts, tanks, vessels, and equipment.
In addition to proper installation, commissioning and a service plan, HVAC pipe insulation plays an important role in managing heat transfer and condensation control for HVAC systems. All building owners desire a properly-sized and energy-efficient HVAC system. One of the quickest returns on investment of all building mechanical system products is HVAC pipe insulation, assuming that it is properly designed, installed, and maintained.
For "cooling systems", national energy codes such as ANSI/American Society of Heating, Refrigerating and Air-conditioning Engineers (ASHRAE)/Illuminating Engineering Society (IES) Standard 90.1, Energy Standard for Buildings Except Low-rise Residential Buildings, International Energy Conservation Code® (IECC®) and International Green Construction Code® (IgCC®), minimum HVAC pipe insulation thicknesses currently range from ½" to 1-½".
For HVAC piping such as chilled water, refrigeration, VRF/VRV, closed-cell elastomeric HVAC pipe insulation is a proven choice due to its closed cell structure and built-in vapor barrier. Due to its inherent flexibility, flexible closed cell elastomeric thermal insulation is not subject to breakage like rigid closed-cell insulation types and is appropriate for HVAC pipe service temperatures ranging from -297° F to 220°F (Aeroflex 257°F).
Aeroflex's Aeroflex® brand of closed-cell EPDM elastomeric insulation is nonpolar and hydrophobic, which means that it does not induce or react with water vapor present in its surrounding environment. With the proper insulation thickness installed, as determined by pipe service temperature, pipe type, pipe size, ambient temperature, relative humidity and jacketing, Aeroflex HVAC pipe insulation will control condensation with its closed-cell structure and built-in vapor retarder.
When all HVAC pipe insulation seams are properly sealed and taped with an Aeroflex adhesive and zero-perm Protape®, metallic piping will be well-protected from the potential of water vapor permeating the insulation system. In extreme environments where low HVAC piping service temperatures and high ambient temperatures and humidity are factors, a supplemental vapor barrier may be required.
Aeroflex EPDM closed-cell elastomeric foam HVAC pipe insulation is inherently mold-resistant so no biocides are added during the manufacturing process. This type of refrigerant, chilled water and plumbing pipe insulation will not provide a food or water source for microbes provided that it is kept free of surface dust, debris and condensation.
Although Aeroflex EPDM closed-cell elastomeric rubber insulation is naturally UV-resistant, which means that it degrades at a slower rate than traditional NBR/PVC rubber pipe insulation, national energy codes require that the manufacturer's protective coating be applied for exterior applications to prevent solar radiation degradation.
Regarding material cost for Aeroflex closed cell EPDM elastomeric insulation, refrigeration, chilled water and plumbing piping, closed-cell elastomeric foam insulation itself is more expensive than traditional fiberglass pipe insulation. However, when protective jacketing is specified and installed with fiberglass, the cost difference is usually minimal. In the long run, building owners can realize a favorable cost of ownership with closed-cell EPDM elastomeric HVAC pipe insulation on their building mechanical systems.
To learn more about the performance benefits of Aeroflex HVAC pipe insulation, please click here.
Source: https://insulation.org/io/articles/types-of-insulation-for-refrigeration-applications/