Why specify Indoor Advantage[TM] insulation?
Remember the term "sick building syndrome" or SBS? SBS occurs when building occupants experience acute health effects due to time spent in a building. Many times, these negative health effects go undiagnosed because they dissipate when the occupant leaves the building, but they reoccur when the occupant returns.
Symptoms can include difficulty with concentration, dizziness, nausea, headache, fatigue, dry cough, eye, nose & throat irritation, dry itchy skin, and sensitivity to odors.
Some of the most common causes of SBS are:
Biological contaminants – bacteria, mold, pollen, and viruses

Poor ventilation

Contaminants from indoor sources – adhesives, sealants, carpeting, manufactured wood products, furniture, cleaning agents, copy machines

Contaminants from outdoor sources – air pollution
Since 1984 when the World Health Organization (WHO) estimated that 30% of buildings worldwide were subject to indoor air quality (IAQ) issues, the building industry has come a long way. 
To specifically address chemical contaminants from indoor sources, building owners, architects, engineers, building products manufacturers, internationally recognized test labs and green building rating systems have implemented certifications and processes to ensure that specified building products are independently certified to possess low levels of volatile organic compounds (VOC's); VOC emissions from building materials are a primary source for SBS.
A critical component for building mechanical systems, such as HVAC and plumbing, is mechanical insulation for piping, ductwork, and equipment. Most mechanical insulation manufacturers now offer 3rd-party certification that their products comply with low-VOC emission requirements of green building rating systems such as the U.S. Green Building Council's (USGBC) Leadership in Energy and Environmental Design (LEED®).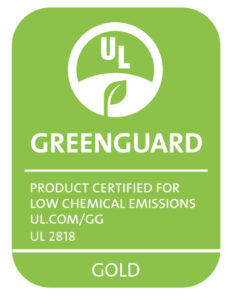 Indoor Advantage[TM] insulation defined
Two of the most recognized VOC emission certification programs are UL Environment's GREENGUARD Certification and Indoor Advantage[TM] Certification. Indoor Advantage[TM] is a more rigorous VOC emission certification program because it addresses the following criteria:
Health-based certification for schools and healthcare facilities

Limits emissions of over 360 VOC's and chemicals 

Requires lower total volatile organic compound (TVOC) emission levels
Indoor Advantage[TM] insulation can contribute to the following sustainable rating systems:
International Green Construction Code® (iGCC®)

California Department of Public Health (CDPH), California Specification 01350, v1.2

BREEAM

CALGreen

Fitwel Standard

Green Globes

GSA

LEED EQ Credit 1 – Enhanced Indoor Air Quality Strategies, Option 2 Additional IAQ Strategies (D)

LEED EQ Credit 4 – Indoor Air Quality Assessment, Option 2 Air Testing

LEED EQ – Low-Emitting Materials

Living Building Challenge, Imperative 10

WELL Building Standard
What's often overlooked is that Indoor Advantage[TM] insulation exceeds the minimum requirements of most green building rating systems by testing and limiting emissions of over 360 VOC's and total chemical emissions. 
To address indoor air quality (IAQ) and VOC emissions for insulation, the EPA references UL 2818 GREENGUARD Certification Program For Chemical Emissions For Building Materials, Finishes And Furnishings. This is the actual UL standard for Indoor Advantage[TM] insulation.
By specifying Indoor Advantage[TM] insulation, design professionals are contributing to healthy indoor environments and potential owner project requirements (OPR's). 
For a product to achieve certification, insulation manufacturers must submit product samples to UL Environment VOC emissions testing and compliance on an annual basis in order to renew their Indoor Advantage[TM] insulation product certifications.
Building owners and consulting mechanical engineers can rest assured that Aeroflex USA's Aerocel® brand of EPDM closed-cell elastomeric Indoor Advantage[TM] insulation and most system accessories are certified by UL for low chemical emissions.
To learn more, please visit https://aeroflexusa.com/low-chemical-emissions-greenguard-gold/
Sources: 
EPA, Indoor Air Quality (IAQ), Indoor Air Facts No. 4 Sick Building Syndrome
https://www.epa.gov/sites/default/files/2021-03/documents/epa_recommendations_of_specs_standards_and_ecolabels_pdf_1.26.21.pdf?VersionId=qPZmGLYGS99lx4o8nRUOmVAtqlgJWhKH
https://www.ul.com/resources/ul-greenguard-certification-program
https://spot.ul.com/main-app/products/catalog/?keywords=aeroflex+usa