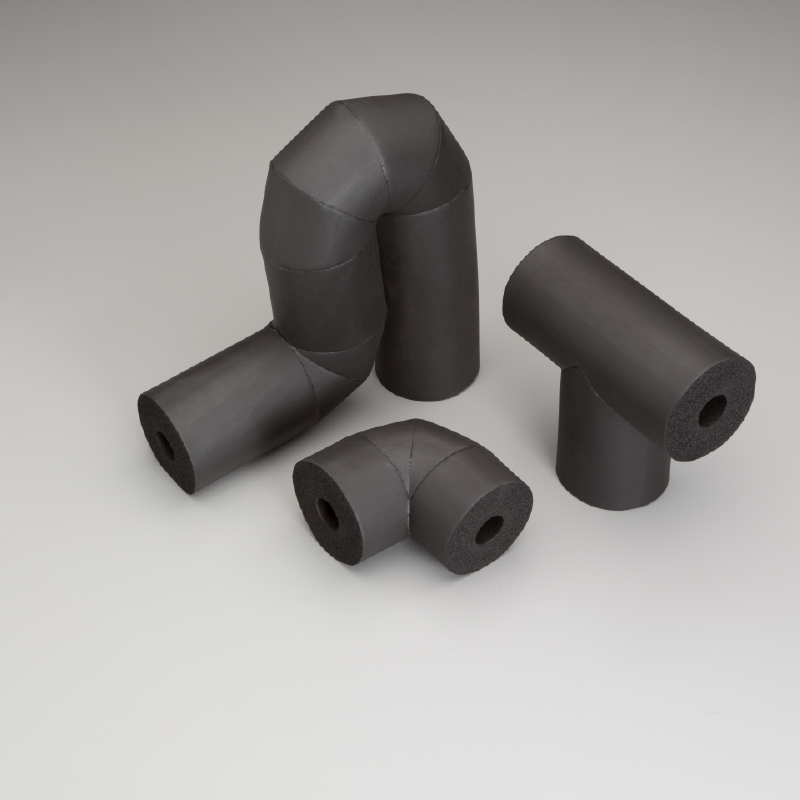 View/download data sheet.
View/download safety data sheet
AEROFLEX® offers single-source hermetic system accessories, including EPDM fitting covers, insulated pipe supports, specialty contact adhesives, tapes, and coatings, and are covered by an express limited warranty.
AeroFit™ EPDM Insulation Fitting Covers
AeroFit™ fitting covers are prefabricated for fast, high-quality installation over mechanical grooved fittings, elbows, tees and P-traps. Factory fabrication reduces installation costs and helps conserve energy by preventing heat gain/loss. AeroFit™ covers also improve aesthetic appearance of installation and reduce the probability of corrosion under insulation (CUI).
Available in a wide variety of thicknesses in popular I.D. sizes up to 6-inch IPS. Each fitting is prefabricated from AEROFLEX® Black and White/Gray closed-cell pipe insulation for seamless EPDM durability, low thermal conductivity and UV-resistance.
See data sheet for available sizes and thicknesses.
Specifications Compliance
ASHRAE Standard 90.1, Energy Standard for Buildings Except Low-Rise Residential Building
ASHRAE Standard 189.1, International Green Construction Code®
Buy American Act
California Title 24, Building Energy Efficiency Standards
CDPH Specification 01350, VOC emissions
EPA TSCA Section 6(h)
IECC®, International Energy Conservation Code®
LEED®
REACH
RoHS
• Eliminates jobsite fabrication
• Reduces complex cutting
• Maintains seamless integrity of your EPDM system
• Indoor Advantage[TM] Gold Certified for low chemical emissions (VOCs)
• Verified Environmental Product Declarations (EPD's) and Health Product Declarations (HPD's)
• No CFCs, HFCs, HCFCs, PBDEs, formaldehyde, nitrosamine or fibers
• Small pipe sizes
• 45° and 90° elbows
• Tees
• P-traps
• Continuous Operating Range: -297°F to +257°F ( -183°C to +125°C)
• Thermal Conductivity @ 75°F (Btu·in./hr·ft2·°F): 0.245
• Water Vapor Permeability (Perm·inch): 0.02 (Black), 0.03 (White/Gray)
• Fire Safety after Fire: 25/50 rated (ASTM E84)*, UL723, CAN/ULC-S102
• Plenum-Rated: NFPA 90A/90B
• Self-extinguishing (ASTM D635)
*Through 2-inch wall