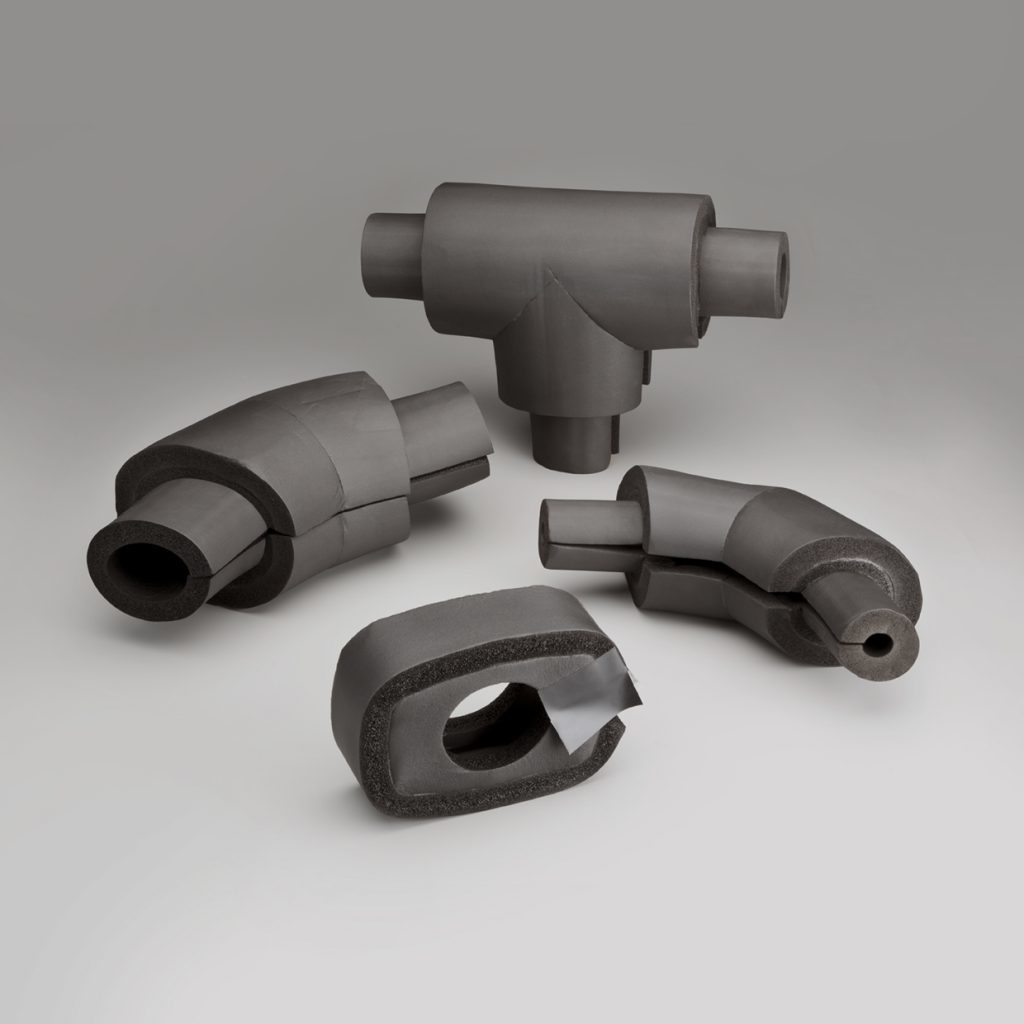 View/download data sheet.
View/download safety data sheet
AEROFLEX® offers single-source hermetic system accessories, including EPDM fitting covers, insulated pipe supports, specialty contact adhesives, tapes, and coatings, and are covered by an express limited warranty.
AeroFit™ EPDM Mechanical Grooved Insulation Fitting Covers
AeroFit™ Mechanical Grooved EPDM closed-cell fitting covers are engineered for quick installation on large piping systems insulated with AEROFLEX EPDM™ closed-cell elastomeric foam insulation. Made with the same proprietary EPDM-based formula as other Aeroflex insulations, AeroFit covers help maintain the seamless integrity of your nonpolar EPDM insulating system.
Precise factory fabrication saves field labor and improves the overall aesthetics of installation for these complex applications. Ensures consistent, long-lasting thermal performance and protection against moisture and environmental stresses.
Available in Black and White/Gray AEROFLEX® formulations.
Wide range of ID's (½"- 6" IPS) and thicknesses (½" – 1½"). See data sheet for more details.
• ASHRAE Standard 90.1, Energy Standard for Buildings Except Low-Rise Residential Buildings
• IECC, International Energy Conservation Code
• ASHRAE Standard 189.1, International Green Construction Code®
• Buy American Act
• California Title 24, Building Energy Efficiency Standards
• CDPH Specification 01350, VOC emissions
• EPA TSCA Section 6(h)
• LEED®
• REACH
• RoHS
• Eliminates jobsite fabrication
• Reduces complex cutting
• Maintains seamless integrity of your EPDM system
• Indoor Advantage[TM] Gold Certified for low chemical emissions (VOCs)
• Verified Environmental Product Declarations (EPD's) and Health Product Declarations (HPD's)
• No CFCs, HFCs, HCFCs, PBDEs, formaldehyde, nitrosamine or fibers
Large pipe sizes
45° and 90° elbows
Tees
Couplings
• Continuous Operating Range: -297°F to 257°F ( -183°C to 125°C)
• Thermal Conductivity @ 75°F (Btu·in./hr·ft2·°F): 0.245
• Water Vapor Permeability (Perm·inch): 0.02 (Black), 0.03 (White/Gray)
• Fire Safety after Fire: 25/50 rated (ASTM E84)*, UL723, CAN/ULC-S102
• Plenum-Rated: NFPA 90A/90B
• Self-extinguishing (ASTM D635)
*Through 2-inch wall