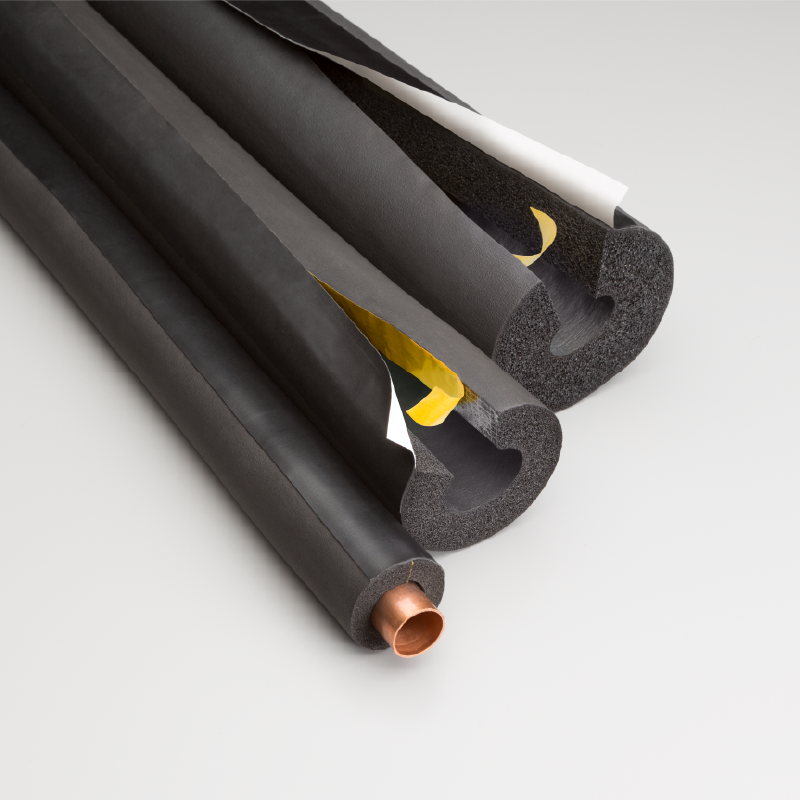 View/download data sheet.
View/download safety data sheet
AEROFLEX® offers single-source hermetic system accessories, including EPDM fitting covers, insulated pipe supports, specialty contact adhesives, tapes, and coatings, and are covered by an express limited warranty.
AEROFLEX Self-Seal™ tube pipe insulation has everything you would expect from a closed-cell elastomeric pipe insulation – flexibility, moisture resistance, low thermal conductivity and more. Plus, it has all the added convenience of a pre-slit dual tape closure for faster installation of the entire tube, including overlapping Protape® seam closure, is made of nonpolar EPDM rubber, providing users with superior condensation control and protection against moisture intrusion, UV and ozone. Our dual tape system includes pre-applied adhesive at the joined surfaces and the overlapping Protape® for a more secure installation.
Available in tube sizes up to 16-inch IPS and 2-inch wall thickness. See data sheet for sizes, thicknesses, and corresponding R-values.
Available in Black and White/Gray.
Includes Cel-Link II® glueless seam seal technology! All AEROFLEX Self-Seal™ pipe insulation shipments include Aeroflex's revolutionary Cel-Link II® glue-less seam seal solution. These patented "peel-and-seal" adhesive disks form bonds that are as strong as contact adhesive. Cel-Link II® sheets are an easy-to-use, low-VOC alternative to contact adhesive. Installers may also use traditional contact adhesive for bonding circumferential joints and termination points.
• ASHRAE Standard 90.1, Energy Standard for Buildings Except Low-Rise Residential Buildings
• ASHRAE Standard 189.1, International Green Construction Code®
• Buy American
• California Title 24, Building Energy Efficiency Standards
• CAN/ULC-S102
• CDPH Specification 01350, VOC emissions
• EPA TSCA Section 6(h)
• IECC, International Energy Conservation Code
• LEED®
• REACH
• RoHS
• Efficient, low thermal conductivity
• Long lasting – Excellent UV AND Moisture Resistance
• Installs faster with industry-leading, patented dual tape closure
• Includes Cel-Link II® glueless seam seal technology for bonding adjoining tubes (no brushes or adhesives required!)
• Environmental Product Declarations (EPD's)
• Health Product Declarations (HPD's)
• Indoor Advantage[TM] Gold Certified for low chemical emissions (VOCs)
• No CFCs, HFCs, HCFCs, PBDEs, formaldehyde, Nitrosamine or fibers
HVAC
VRF
Chilled Water
Refrigeration
Hot and Cold Water Plumbing
Continuous Operating Temperature Range: -297°F to 257°F ( -183°C to 125°C)
Thermal Conductivity @ 75°F (Btu·in./hr·ft2·°F): 0.245
Water Vapor Permeability (Perm·inch): 0.02
Non-corrosive on stainless steel (ASTM C692)
Fire Safety: passes 25/50 (ASTM E84, UL723, CAN/ULC-S102)*
Plenum-Rated: NFPA 90A/90B
Self-extinguishing (ASTM D635)
*Through 2-inch wall thickness