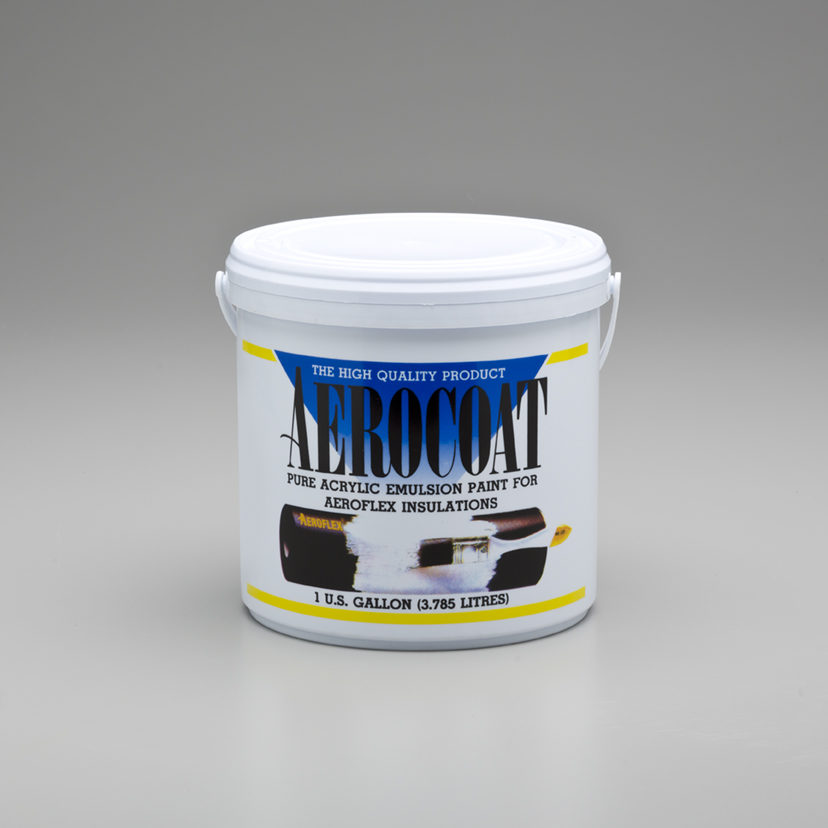 View/download data sheet.
View/download safety data sheet
AEROFLEX® offers single-source hermetic system accessories, including EPDM fitting covers, insulated pipe supports, specialty contact adhesives, tapes, and coatings, and are covered by an express limited warranty.
Aerocoat™ Premium Insulation Coating
Aerocoat™ is a premium pure acrylic emulsion water-based latex coating specially formulated to protect AEROFLEX EPDM™ insulation for exterior applications. Aerocoat protects all Aeroflex insulation from UV degradation and complies with U.S. energy codes that require painted protection of insulation in exterior environments.
Availability: 1-gallon containers (White).
ASHRAE Standard 90.1, Energy Standard for Buildings Except Low-Rise Residential Buildings
IECC®, International Energy Conservation Code®
ASHRAE Standard 189.1, International Green Construction Code

®

California Title 24, Building Energy Efficiency Standards
CDPH Standard Method v1.2, Low-Emitting Materials, VOC Emissions, Interior and Exterior-applied coatings
Environmental Product Declaration (EPD)
• Meets U.S. energy codes for exterior protection of insulation
• Low-VOC emissions
• Complies with LEED® low-VOC emission requirements for interior and exterior applied coatings
• Superb UV protection
• Improves product life cycle
• Easy 2-coat application with brush or roller
Refrigeration piping & equipment
HVAC and VRF piping & equipment
HVAC ductwork
Chilled water piping & equipment
Plumbing piping & equipment
Coverage: up to 400 sq. ft. (approximate, dependent on application thickness)
Elongation: 400%+
Nonflammable
VOC content: 116 g/L
Dry Time: 4 hours between coats
Reapplication: 3-5 years
Shelf Life: 1 year