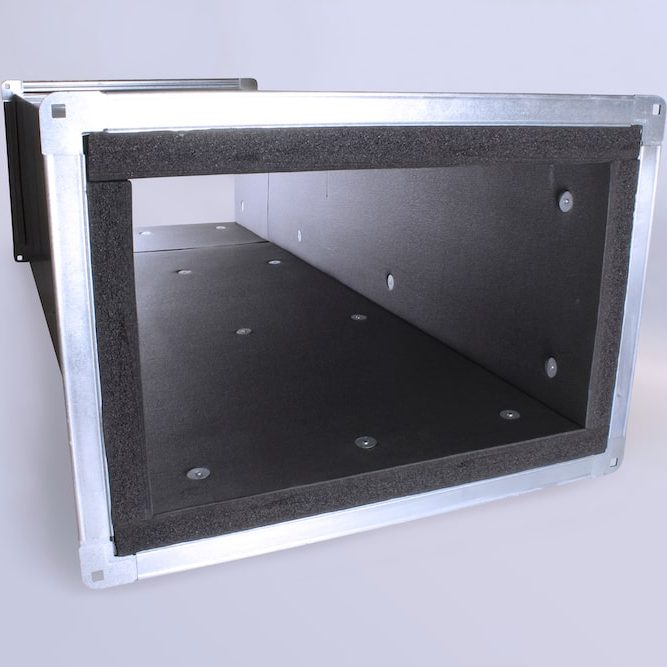 View/download data sheet.
View/download safety data sheet
AEROFLEX® offers single-source hermetic system accessories, including EPDM fitting covers, insulated pipe supports, specialty contact adhesives, tapes, and coatings, and are covered by an express limited warranty.
AEROFLEX Breathe-EZ™ duct insulation is a fiber-free EPDM closed-cell elastomeric foam insulation for safely lining and wrapping HVAC duct systems. It conserves energy, prevents condensation, attenuates lower frequency sound such as fan noise and sheet metal vibration, and breakout noise.
AEROFLEX Breathe-EZ™ complies with the International Mechanical Code requirements for duct linings and coverings contained within plenums to pass ASTM E84 or UL 723 25/50 and to be listed and labeled by a nationally recognized test lab.
Compliant thicknesses - 1" [25 mm], 1-1/2" [38 mm], 2" [50 mm]
ASHRAE Standard 90.1, Energy Standard for Buildings Except Low-Rise Residential Buildings

ASHRAE Standard 189.1, International Green Construction Code®

ASTM C1534 Type I

Buy American

California Title 24, Building Energy Efficiency Standards

CAN/ULC-S102

CDPH Specification 01350, VOC emissions

Environmental Product Declaration (EPD)

EPA TSCA, PBT, PFAS

Health Product Declaration (HPD)

Indoor Advantage™ Gold Certified for low chemical emissions

IECC®, International Energy Conservation Code®

International Mechanical Code®

LEED®

NFPA 90A / 90B

REACH

RoHS
• Fiber-free
• Low-VOC
• Attenuates low-frequency noise
• Reduces breakout noise
• Controls condensation
• Smooth surface, easy to clean
• Mold resistant
• HVAC Duct Liner
• HVAC Duct Wrap
• Performance Properties
• Thermal Conductivity: 0.255 (75ºF, ASTM C177/C518)
• Continuous Service Temperature Range:
- Standard: -70°F to 257°F (-57°C to 125°C) - PSA: -22°F to 250°F (-30°C to 121°C) (ASTM C411)
• Fire Rating: 25/50 rated (ASTM E84, UL 723, CAN/ULC-S102)
• Water Vapor Sorption: 0.08 perm-inch (ASTM E96)
• Erosion Resistance: No evidence of erosion @ 10,000 fpm (ASTM C1071/UL181)
• Mold Resistance: No growth (UL181)
• Sound Absorption Coefficient: see data sheet (ASTM C423)