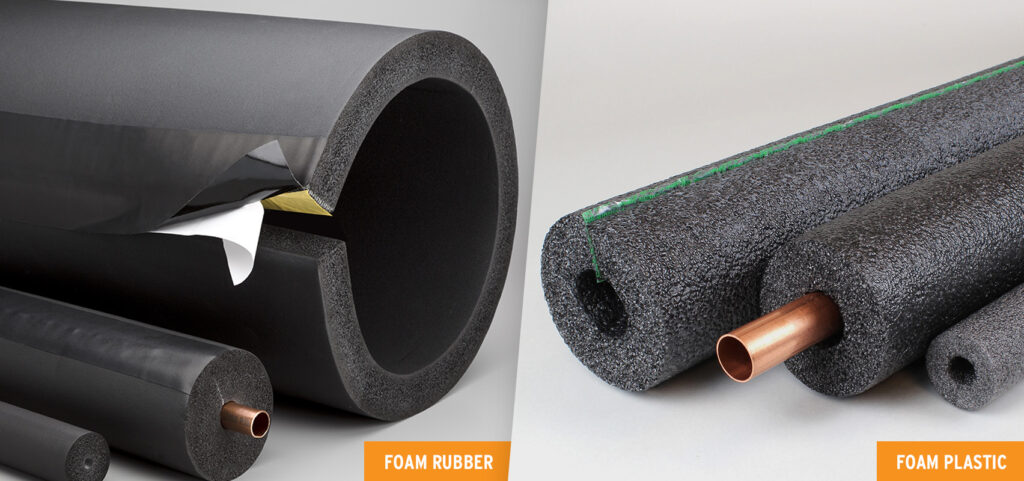 Rubber Versus Foam Pipe Insulation: Which is better?
There are many types of commercial and industrial mechanical pipe insulation types to choose from. Each type offers advantages and disadvantages depending on the application. Determining owner project and performance requirements will simplify the product selection process while ensuring that the right pipe insulation is specified and installed to ensure long-term system performance.
This post will focus on closed-cell pipe insulation options, and more specifically, a focus on flexible rubber versus foam pipe insulation: which is better? Both consist of a closed-cell structure which efficiently controls condensation on below-ambient (cold) piping systems.
Flexible elastomeric closed-cell foam pipe insulation, also known as rubber, is composed of synthetic rubber. The two main foam rubber formulations that are commercially available are nitrile butadiene rubber with PVC (NBR/PVC) and EPDM (Ethylene Propylene Diene Monomer). The industry reference standard is ASTM C 534, Standard Specification for Preformed Flexible Elastomeric Cellular Thermal Insulation in Sheet and Tubular Form. A comparison between NBR/PVC and EPDM is available in a later section of this post.
In addition to foam rubber pipe insulation, another alternative is known as foam plastic (also known as polyethylene, polyolefin, poly, or PE). Foam plastic pipe insulation is often installed on residential and light commercial piping systems. The industry reference standard is ASTM C 1427, Standard Specification for Extruded Preformed Flexible Cellular Polyolefin Thermal Insulation in Sheet and Tubular Form.
Rubber Versus Foam Pipe Insulation: Which is better?
Choosing between foam rubber and foam plastic depends on the application. Below are a few key performance characteristics to evaluate:
Thermal conductivity (K-value): thermal efficiency
Continuous service temperature (upper)
Fire safety: flame spread & smoke-developed index (ASTM E 84 or UL 723)
Density
Cost
Thermal conductivity – foam rubber typically offers a lower (favorable, more thermally-efficient) K-value than foam plastic.
Continuous service temperature – foam plastic's upper continuous temperature threshold is 200°F [93℃]; NBR/PVC foam rubber is 220℉ [104℃]; EPDM foam rubber is 257℉ [125℃].
Fire safety – this criteria is important to pay attention to. Foam rubber usually passes ASTM E 84 or UL 723 25/50 flame spread/smoke-developed index up to 2" [50 mm] thick. However, foam plastic has been known to melt, drip, or delaminate during the same test procedure. In other words, foam plastic's fire performance is less predictable and in some cases does not pass at greater thicknesses such as 1-½" [38 mm] and 2" [50 mm].
Density – both foam pipe insulations are considered flexible, however foam plastic is more rigid by comparison.
Cost – foam plastic typically costs less than rubber, however the project application, performance characteristics, and owner project requirements may be more important than first cost.
A safe conclusion when comparing rubber versus foam plastic pipe insulation is that rubber is the better choice for commercial and industrial applications due to its lower thermal conductivity, higher continuous operating temperature, and more predictable fire behavior. Rubber is more likely to check all of the boxes when addressing the building owner's project requirements.
To drill this comparison down another level, what should you look for when comparing NBR/PVC and EPDM foam rubber insulation? Both meet ASTM C 534, are made from synthetic rubber compounds and consist of a closed-cell structure and smooth outer skin that serves as a vapor barrier. But what are the performance advantages of Aeroflex® EPDM versus NBR/PVC?
Chemical Polarity – Aeroflex® EPDM is nonpolar (hydrophobic), which means that it does not induce or react to moisture. NBR/PVC is hygroscopic or attracted to moisture.
Thermal conductivity – Aeroflex® EPDM k-values are the same across core product lines.
Water vapor permeability (WVP) – Aeroflex® EPDM maintains low WVP across core product lines.
Corrosiveness – Aeroflex® EPDM is non corrosive on metallic piping, including stainless steel.
Continuous operating temperature (upper limit) – 257℉ [125℃].
UV resistance – Aeroflex® EPDM is more UV-resistant than NBR/PVC; although not UV-proof, EPDM will degrade at a slower rate than NBR/PVC.
Mold resistance – Aeroflex® EPDM does not contain organic food sources such as binder and oils which can sustain microbes; the addition of EPA-registered antimicrobials are necessary.
PVC content – for building owners seeking PVC-free building materials, Aeroflex® EPDM contains ultra-low PVC content (< 1% by weight).
Flexibility (cold weather) – EPDM is known to stay more flexible than NBR/PVC during cold-weather installations.
To learn more about Aeroflex® EPDM, click here.