What to Look for in HVAC Refrigerant Pipe Insulation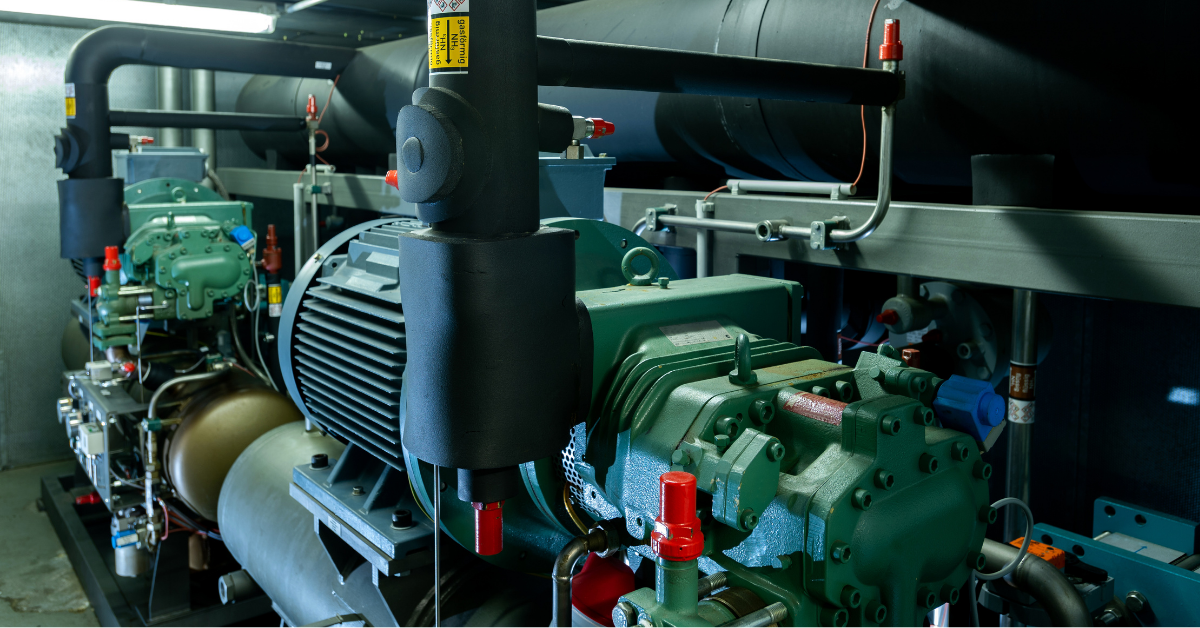 HVAC refrigerant pipe insulation is a critical component of a well-designed refrigeration system to achieve long-term performance and life cycle costs for building owners.
Refrigeration systems are demanding and generally operate continuously with the potential for downtime to be minimized. While every refrigeration system has its own set of unique requirements, they all have two enemies – condensation and vapor drive. The right HVAC refrigerant pipe insulation, when correctly specified and installed, can control these two constant threats.
Commercial and industrial refrigeration systems typically operate in the 20°F to -50°F (ammonia) range. These continuous service temperatures are below-ambient and a constant target of condensation and vapor drive. Additionally, hot gas defrost cycles can reach intermittent spikes of 250°F. The consequences of inadequate HVAC refrigerant pipe insulation design include saturated insulation, icing, pipe corrosion, system failure, and dreaded downtime.
Fundamental HVAC refrigerant pipe insulation design considerations include the following:
Thermal conductivity (k-value)

Water absorption

Water vapor transmission (WVT)

Moisture-wicking potential

Vapor retarder

Fire safety to meet code requirements

Availability of tubular and sheet formats to insulate piping & equipment
The ASHRAE Handbook recommends cellular glass, closed-cell elastomeric, closed-cell phenolic, polystyrene, and polyisocyanurate insulation for refrigeration system applications. These insulation types share a few characteristics: closed-cell structure, low water absorption, and low WVT. Depending on the owner project requirements (OPR) project team's basis of design (BOD), any one of the above HVAC refrigerant pipe insulation types may be selected and specified with (or without) a supplemental vapor retarder jacket or coating.
Closed-cell flexible elastomeric foam HVAC refrigerant pipe insulation has been commercially available in the U.S. market for almost 70 years. It is commonly specified and installed for the following purposes:
Closed-cell structure

Lightweight

Flexible

Built-in vapor retarder

No jacket required for most applications

Favorable thermal k (reduces required thickness)

Low WVT

Low water absorption

Available in factory pre-cut tubes, sheets & rolls, and accessories

Passes ASTM E84 (25/50) through 2" thick

Low-VOC for chemical emissions
Below are key considerations for success with closed-cell elastomeric foam HVAC refrigerant pipe insulation design to ensure long-term performance:
Specify the correct insulation thickness to control condensation (common source of failure)

Determine if a supplemental vapor retarder is required (low line temperatures in high ambient and relative humidity operating environments)

Specify the manufacturer's UV protective coating for exterior applications or a protective jacket for both UV and mechanical protection

At pipe hanger locations, specify the manufacturer's pre-insulated pipe hanger fitting to prevent insulation compression and resulting failure

All insulation seams and terminations must be sealed with the manufacturer's special-purpose contact adhesive to provide a complete vapor seal, preventing air and water vapor ingress

It's recommended to specify the manufacturer's foam rubber tape over all glued seams as an additional level of protection (tape over unglued seams will not prevent vapor drive alone)
While the most common closed-cell elastomeric foam HVAC refrigerant pipe insulation available is composed of nitrile butadiene rubber and PVC (NBR/PVC), Aeroflex USA offers an Ethylene Propylene Diene Monomer (EPDM) alternative. The benefits of EPDM include:
Non-Polar (Hydrophobic) – does not induce or react with water vapor

Higher upper continuous service temperature – +257°F

Greater resistance to UV degradation

Inherently microbial-resistant (no biocides added)

Non-corrosive on austenitic stainless steel piping

Indoor Advantage[TM] Certified

Available in Aeroflex® brand standard and "pre-cut" tubes (SSPT), sheets and rolls (with or without PSA back), and factory-fabricated fittings up to 2" thick

Aeroflex EPDM system accessories – pipe hanger fittings, factory-fabricated fittings, adhesives, tapes, and coatings

Glue-less seam seals – Aeroflex® Cel-Link II®

SSPT ID range from ⅜" to 16" IPS

Pass ASTM E84 up to 2" thick (plenum-rated)

Made in the U.S.A. with global materials
To learn more about Aeroflex HVAC refrigerant pipe insulation system solutions, please visit https://aeroflexusa.com/hvac-equipment-insulation/.