Looking For Insulated Strut Clamps?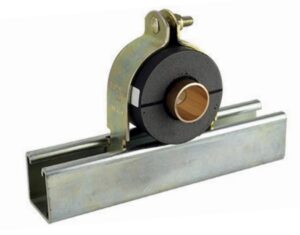 Aeroflex USA is periodically asked if we can recommend a source and/or the properly-sized strut clamp to be installed with Aerofix® Inulated Pipe Supports.
Since pipe hanger components and sytems are distributed through a separate construction channel and are typically installed by mechanical contractors (not mechanical insulators), obtaining clamp sizing information can be challenging for contractors.
In an effort to offer a turnkey solution, Aeroflex USA has partnered with ZSi-Foster who manufactures cushioned clamping, support systems, and quick disconnect products.
Contractors can now purchase ZSi-Foster's Cush-A-Therm™ insulation clamps, which include Aerofix® with the properly-sized metal clamps, all-in-one. Available ID's range from 1/4" to 4-1/8" and wall thicknesses from 1/2" to 2".
Cush-A-Therm™ can be purchased on ZSi-Foster's website, direct with a ZSi-Foster account, or through a ZSi-Foster distributor. Their Customer Service number is (800) 323-7053 (Eastern Time).
IMPORTANT – Aeroflex USA is not a ZSi-Foster distributor. We do not inventory or sell Cush-A-Therm™ insulation clamps. Cush-A-Therm™ is not covered by Aeroflex USA's Express Limited Warranty.